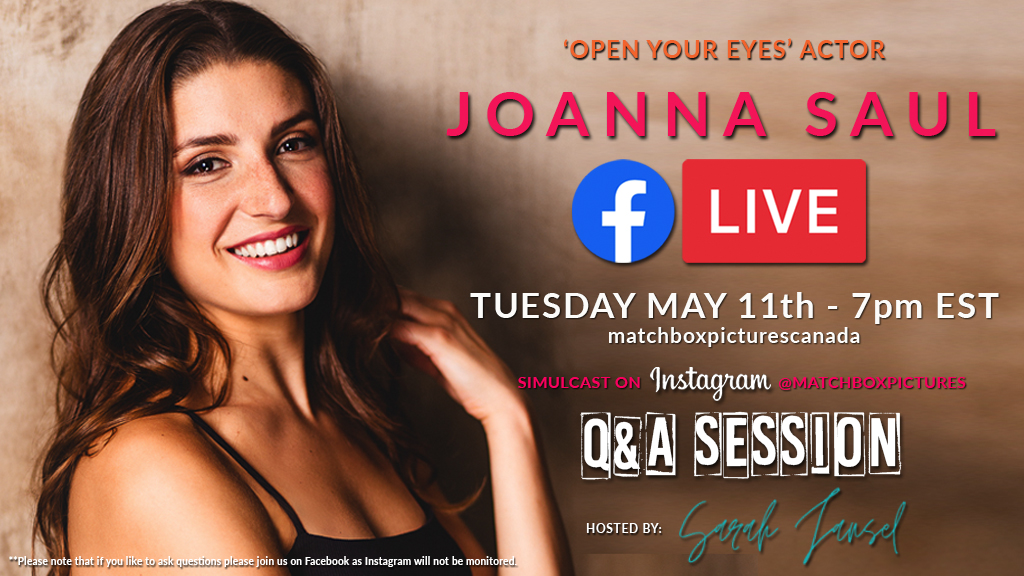 Join us and actor Joanna Saul who plays 'Lisa' in our upcoming film 'Open Your Eyes' for a live Q&A this Tuesday May 11th to get a behind the scenes look with exclusive video and more! Watch live on our Facebook page and ask your questions or watch the simulcast on Instagram Live.
Link to our Facebook page: https://www.facebook.com/matchboxpicturescanada
Hosted by Sarah Jansel, listen as they discuss everything from working through a pandemic, Joanna's film journey, growing a business and much more! You can catch the Q&A live on our Facebook and Instagram. Stay tuned for exclusive behind the scenes footage you won't get any where else!
Joanna Saul is a Toronto based actor who blends her academic education (B.A. Psychology, McGill University) with her acting experience and training (Rooney Actors Workshop – 2020 Scholarship Recipient, Bad Dog Theatre, and more) to truly understand characters, their behaviors, and motivations. Her boundless curiosity and ambition are fueling her flourishing career as an actor and producer. Founding Member of Counterbalance Collective—a volunteer, women-led, non-profit film development and production organization based in Toronto, ON—Joanna continues to breath life into each and every role she is given, no matter the challenge.
Our host for the event, Sarah Jansel has done it all. Utilizing her two decades of corporate experience, her transition into entrepreneurship is a surprise to no one. Building a strong online presence, Sarah has successfully helped businesses across Canada and the United States strengthen their online presence ensuring their exponential growth. With her wealth of knowledge, positive attitude, and experience leading, she was named one of Yahoo Finance's 2021 top ten business coaches to watch!
Don't forget to SUBSCRIBE and FOLLOW us and be sure to check the trailer for Open Your Eyes!
To connect with Sarah, check out her website SarahJansel.com and Joanna on her Instagram @JoannaSaul!
See you this Tuesday!