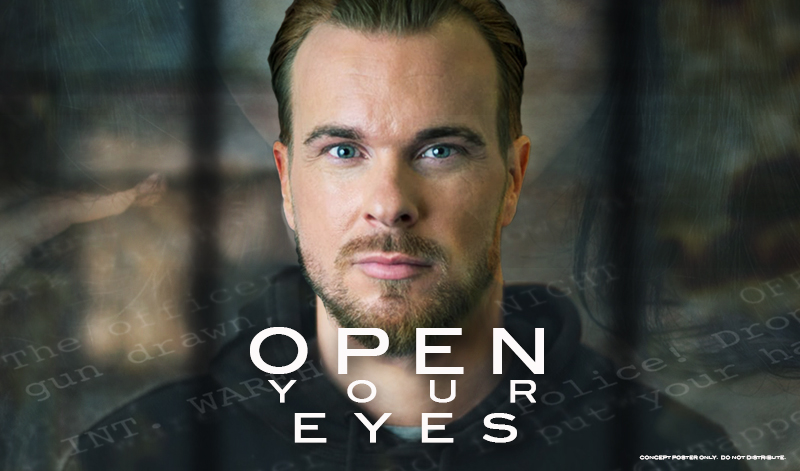 UPDATE: BEGINS FILMING MAY 29th, 2020 (Confirmed)
The Investment:
We are currently seeking small investors of $600.00 minimum in exchange for 1% of any and all Production Company Gross Revenues (PCGR) generated by the film through its release. We have currently raised enough funds to begin filming but your support is still needed to take us on through to the finish line.
Details:
We have just completed our new screenplay 'Open Your Eyes' and need your help to begin production on it immediately in the next few weeks.
The screenplay has been intentionally written with the current health & safety guideline in mind and for this production the cast and crew will be self-quarantining together to make this film with its underlying message of hope.
This film will be shot with a on-set crew of three and a cast of two in a single location which makes up over 75% of the entire film. The remaining portion of the screenplay takes place in two exterior locations with the same cast and the same crew. All locations are currently being secured and Ry Barrett (IMDB Link) has already signed on to play the male lead with Joanna Saul being cast in the female lead role.
This production will be supported by another 5 "outside crew' during the duration of filming on through post production but none of these individuals will ever step on any set nor come in contact with one another, this is by design.
On this production ALL actors and crew are volunteering their time to this project and will be participating as investors. Everyone of us know the show must go on and the need for something good to come out of the situation we all find ourselves in.
We are currently seeking small investors of $600.00 minimum in exchange for 1% of any and all Production Company Gross Revenues (PCGR) generated by the film through its release. There is a total of 30% PCGR available to cash investors in intervals of $600.00 with no set maximum up to the required cash capital of $18,000.00. We have already secured just over $4000 in investments in the past few days.
These small amounts are to help raise the $18,000 "hard-cost" budget to make this film a reality and bring it through to completion. We anticipate the film to be completed by the fall of 2020 and being one of the very first new films shot and completed post COVID-19.
We are anticipating up to a 3 week shoot once we commence on May 29th while simultaneously editing while principal photography is still happening to complete the film in an expedited manner so that it will be ready for the fall when major distributors will be clamouring for new content. This will not only maximize the film's exposure but will also maximize the financial return potential.
We welcome you to request a watermarked pdf version of the screenplay by simply emailing admin@matchboxpictures.ca . Timing is crucial in this matter and we appreciate your swift consideration and support. Please see attached documents for your review and feel free to forward this information off to anyone you think may be interested in supporting this endeavour. If you should have any question or need more information please do not hesitate to contact us. If you do wish to invest in the film please let us know the amount you wish to invest by relying to this email with all other pertinent information (See sample agreement) and we will have an agreement drawn up and returned to you immediately.
Synopsis:
Unable to cope with recent events, screenwriter Jason Miller dives relentlessly into his newest screenplay in an attempt to avoid dealing with a traumatic experience. Holed up in his apartment, his mental state teetering on the edge, he meets Lisa; his beautiful neighbor from down the hall and a relationship begins to develop.
Jason burns the midnight oil to finish his script he becomes more and more intrigued by her as strange and mysterious things begin to happen in the building causing him to question everything. With Jason's mind unraveling, his life spinning out of control, we soon realize that things aren't always as they seem as he struggles to hang onto the one thing he wants most…. hope.
Safety is Our Key Priority:
In these times keeping an air of "normalcy" is so important while adhering to all health and safety guidelines. We have been working hard at trying to maintain this attitude by keep things moving forward with this film. The feature 'Open Your Eyes' has been successfully broken down into a very low impact production environment, which we have carefully crafted and feel that we can safely move into production within the next couple weeks.
From all our previous productions we know we are at great advantage over other productions as we have always worked with small, nimble crews that makes us much more adept than others in this industry to evolve and adapt to the current situation around the world.
If Interested:
If you would like to invest or need more information please contact us via email: admin@matchboxpictures.ca