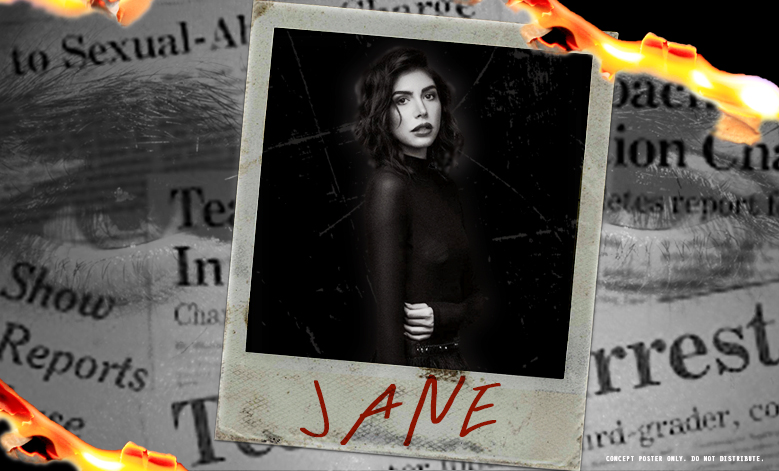 THE INVESTMENT
Matchbox Pictures (Jane Film Productions Inc.) is currently seeking individuals, organizations and companies for a total cash investment of $150,000.00 (CDN) for the feature film production of 'JANE' (working title) for a total 45% share in any and all of the Production Company's Gross Revenues (PCGR).

 
FILM SYNOPSIS
JANE, a meek, medicated and anxiety ridden thirty-something woman tries to cope with her day-to-day life as a waitress in the big city while relying on her therapist to provide most of her emotional support and human contact outside of work until one fateful night when she comes face to face with one of the individuals involved in changing the course of her life all those years ago when she was just a young girl.

The seemingly random encounter quickly spirals down a dark path of revenge when she makes the choice to methodically hunt down those responsible for destroying not only her life but also stop them from doing the same to other unsuspecting young girls.

JANE is an eye-opening and unflinching look at the devastating impact sexual abuse can have on individuals and how one young woman decides to face her past head-on and, with her own form of justice, hold those responsible, accountable… but things aren't always as they seem with this twist-filled thriller that will keep you guessing until the very end.
INVESTOR 6 KEY POINTS
Seeking $150,000 CDN for 45% of PCGR: All Investor money will be held in trust with Matchbox Pictures Inc. in a designated account until our minimum budget goal of $100,000.00 is reached either through private investors and/or distributor pre-sales advances and/or guarantees. Should the budget commencement goal not be reached by July 30th, 2020 all investor principle monies received will be returned in full.
100% Investor Principals Returned First: Cash Investors will receive 100% of any and all Production Company's Gross Revenues (PCGR) related to the film UNTIL THEIR PRINCIPAL INVESTMENTS ARE RETURNED IN FULL and before any other deferred revenue sharing is enacted.
Minimum Investment $3,333.00 = 1%: The minimum investment is $3,333.00 for a 1% participation of any and all Production Company's Gross Revenues (PCGR). Individuals investing $25,000.00 CDN or more will be listed in opening and end credits as an 'Executive Producer'. All investors will be invited to the cast and crew screening in London, ON. Executive Producer Investors will be invited to attend the Canadian Premiere on the big screen.
Film Completion - Fall 2020: The film will benefit greatly from its small footprint of production and even under these strict social distancing guidelines it can be completed in the fall of 2020 where demand for new content will be overwhelming.
95% Filmed in London, ON: The 18 days of Principal photography of the film is currently set to begin late June until mid July 2020 with the secured funds in London, ON with one scene to be shot in Windsor, ON.
We Minimize the Risk: Our model is to make high-quality, lower budget, lower risk films that maximize audience potential from our cast and crews investing much of their time with minimal fees and in-turn participating in the films success. 50% of your principal investment is protected through incorporation of the project as a stand-alone corporate entity.
SCREENPLAY FEEDBACK
"Wow! I didn't see the end coming even though I was looking for the spin. Really cool concept. I love it!" - C. Jansel

"the script was a page-turner…definitely got me at the end - very clever." - C. Bonham

"HOLY S#!T…the end is insane and not what I expected!! [Jane] is a beautiful balance between broken and brave." - N. Kawalez 


WHY SUPPORT THE FILM?
Topical Subject Matter = High Audience Interest

Higher Risk  / Higher Return Potential

Experienced Local ProdCo with 3 Films Distributed Globally

Committed, Experienced Crew

Local Investment = Local Impact

100% Canadian Content / Canadian Investment

ACTRA Talent Confirmed for Lead Role

Entertainment = Recession-Proof Industry

Bragging Rights / Exclusivity

Be Part of Hollywood North's Continued Success

50% of your Principal Investment is Protected
HEALTH & SAFETY IS OUR KEY PRIORITY
In these times keeping an air of "normalcy" is so important while adhering to all health and safety guidelines. For the last five weeks we have been working hard at trying to maintain this attitude and keep things moving forward with this film. The feature 'Jane' has been successfully broken down into a low impact production environment which we have carefully crafted and feel that we can safely move into production within the next couple months.

Out of the twenty production days only one day will have more than five individuals on any given set while continuing to taking all the safety measures we have put in place for individuals on and off camera. The one day that is the exception to this, where we would have a total of just under twenty actors and crew will be moved to the very end of the shooting schedule and will be shot when it is safe to do so while continuing to be vigilant in regards to heath and safety measures. This scene can be set up with social distancing measures in place for 80% of the individuals involved on this day.

Over seventy percent of the film has two or less people on camera with only two to three crew members required on set. The remainder of the minimized crew will work from different isolated areas so we feel we can safely move forward with the production of film without sacrificing anything in the final product which is crucial. From all our previous productions we know we are at great advantage over other productions as we have always worked with small, nimble crews which makes us much more adept than others in this industry to evolve and adapt to the current situation around the world.

Although our original "normal world" distribution strategy prior to the pandemic focused on film festivals being a key promoter, we believe now we have an opportunity with the upcoming demand for new content and the benefits from that will far exceed anything that would be lost from film festival currently being shuttered.

 



Arts and culture are more important then ever and come this fall the demand for new films will be an opportunity not only to succeed financially as distributors need for new content will rise dramatically which will benefit our film, its subject matter giving it the awareness it deserves. As they say… the show must go on and we hope you will consider being a part of it.
PRODUCERS' STATEMENT
The script has passed through quite a few hands through its development, especially women as we wanted their point of view portrayed in a realistic light and they have had nothing but positive things to say about it, which as a writer is very satisfying. The other exciting part is all the twists and turns with an ending, that to this day, no one has seen coming. 

'Jane' will be our first film we plan to use ACRTA on-camera talent. This is exciting for many reasons; most of all the superior caliber of performances the actors will bring to the story than casting non-union performers. It opens up not only avenues with sales and distribution but on the film festival circuit as well. Our intention going into this is trying to secure a well-known Canadian actor for one of the smaller but pivotal roles that appears throughout the film adding a higher exposure element to our film. 

We cannot express how important private investors support is to our local film industry, which is small and we are one of the only feature film players in town made up of people who all reside in London, ON and do the vast majority of all the production here. Your support and encouragement is appreciated and we do our utmost to mitigate and minimize the risk to everyone involved financially and creatively. We can't do what we do without you. So on behalf of all of us, thank you.
FOR MORE INFORMATION
*SCREENPLAY & INVESTOR PACKAGE AVAILABLE UPON REQUEST*



[wpforms id="6318"]


Email: 

admin@matchboxpictures.ca 

Matchbox Pictures Inc
775 Waterloo St. Unit 2
London, ON. N6A 3W5
admin@matchboxpictures.ca