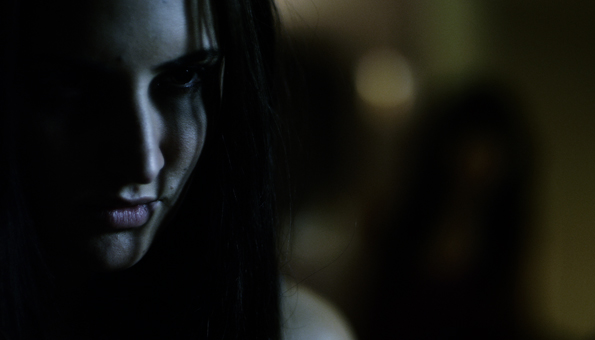 We're not Hollywood North yet, but a small film company has scored a big hit with a new made-in-London horror flick.
Devil Seed (www.devilseedmovie.com) was released last week by Matchbox Pictures and immediately shot to the top of horror genre films, downloaded on i-Tunes Canada, edging out Hollywood blockbusters such as The Woman in Black. Devil Seed also ranked in the top 40 overall on iTunes.
"Our little film is competing with the big boys," said Greg Sager, one of three partners in Matchbox Pictures along with Greg Elmer and Dwight Coughlan.
Matchbox has deals with major distributors to have the film sold in 43 countries and the DVD is flying off the shelves of local retailers such as Future Shop and Wal-Mart. It's also available on-demand on the Rogers and Shaw Cable systems. Not bad for a movie shot two years ago in an old house on Princess Avenue for about $200,000. Elmer said a first film is always a gamble but he is breathing a lot easier. "We have already made our money back as well as a 20% return for investors," said Elmer. Devil Seed is a horror-thriller about a college student who is possessed by a demon after a psychic reading. The film may provoke screams and nightmares, but it's a dream come true for Sager. Elmer and Coughlan
All three are London-area freelancers who have spent years working in commercial and corporate video and stringing for major networks — the stuff that pays the bills. But when Sager returned from a long stint at the 2010 Vancouver Olympics he decided it was time to shoot one of the scripts he had written over the years and make a feature film. "This is what I wanted to do since I was seven. It's been a long haul," he said. When they found an old house on Princess Avenue with creaky stairs and a creepy attic they knew they had the perfect location.
The film is set in Boston but Londoners will recognize some familiar street scenes. Although London actors played some minor roles, Matchbox worked with a Toronto company to cast the four major characters. The lead character of Alex is played by 24-year old Toronto actor Michelle Argyris in her first major movie role. "There's a built in audience for horror. They don't care who's in it. They just want a good horror movie," said Sager. Sager has won some critical praise for his directing and for the script he wrote with Geoff Hart.
The film is not being distributed in theatres because of the high cost of cinema marketing. The Matchbox partners are hoping Devil Seed will sprout new investment for the their next big film project — Kingdom Come. It's the film Sager has always wanted to do – a supernatural thriller about some strangers who wake up in an abandoned hospital and are stalked by a sinister force.
Sager said the old South Street campus of the London Health Science Centre would be an ideal place to shoot – although the complex is slated to be demolished soon. The old McCormick's candy factory on Dundas St. E. could provide another locale.
Matchbox is hoping to shoot one film a year in London and Elmer said they are getting good co-operation from local officials, "It's a fabulous place to shoot. If you want to close down a street. You just pay for a cop and it's yours," said Elmer. Kingdom Come will have budget closer to $500,000 and Matchbox is lining up more investors and started pre-production but shooting will not likely begun until spring.
Sager said the success of Devil Seed should be a great springboard for future projects. "We are hoping this will give us some weight and credibility," he said.
E-mail hank.daniszewski@sunmedia.ca, or follow HankatLFPress on Twitter.