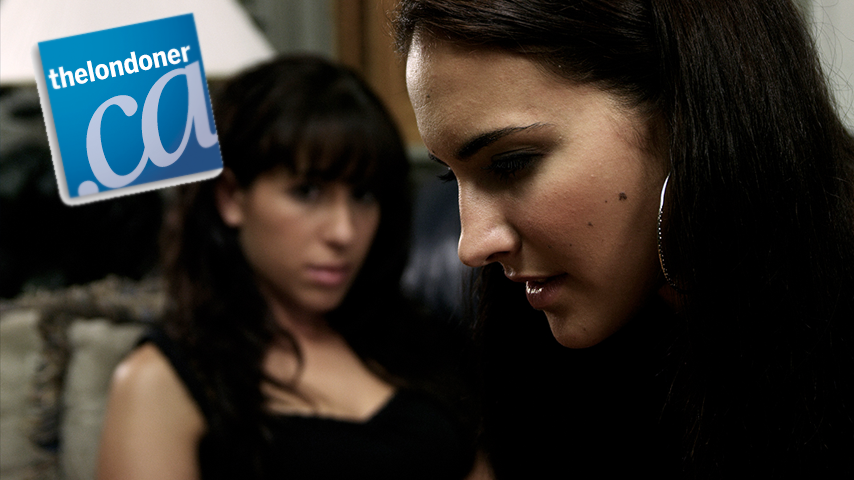 Original Article: http://www.thelondoner.ca/2012/08/07/local-film-company-matchbox-pictures-releases-devil-seed
Faced with an empty resume and a limited budget, a small production company from London decided it was time to take a chance and shoot their first feature film.
"This thing was make or break," said director Greg Sager, who's also a writer and producer for Matchbox Pictures. "None of us were really tested."
But they did have one advantage.
"We had worked together for many, many years under other intense, grueling situations," added producer Gary Elmer. "We've all been through hell and back many times."
Now Matchbox Pictures wants to give you a taste of what their version of hell looks like.
Their debut horror film Devil Seed — a creepy possession flick about a bright-eyed college student whose life is corrupted by an evil demon aspiring to invade Earth – releases on DVD August 7.
Shot over six weeks in London, Devil Seed stars Toronto's Michelle Argyris as the innocent and reserved lead, Alex Frobisher. After moving in with friends (Shantelle Canzanese, Vanessa Broze) so she can attend school, a hesitant Frobisher is convinced to visit a psychic for a laugh after a night out. When the experience goes frighteningly awry, Frobisher struggles to determine whether the strange supernatural events that follow are real or only in her mind.
"It's a simple story that we made into a good little ride," said Sager. "Classic scares, that's what we're about."
Doing away with bloody shock value, the film is a dark homage to the roots of horror that pushes the boundaries of what can be done with a small budget production. With a hint of film noir and even a little sex appeal, Devil Seed is about what the uneasy mind believes is lurking in the shadows, up a crooked staircase, or around the next corner.
"What you can't see is more often scarier than what you can," Elmer said. "The trick was to maintain a level of darkness in there, without going too crazy. It's fun to be working in those deep shadows."
Taking advantage of Canadian movie tax credits in southwestern Ontario, the Matchbox team had what they needed to make their first effort count in London. That includes the "Amityville-like" two storey house where most of the action in Devil Seed takes place.
With its own creaky staircase reminiscent of The Exorcist and a top floor attic that would make a perfect spot for a possession-happy demon to stalk its victims, the home Frobisher inadvertently brings her uninvited guest to plays as much of a role in the movie as its characters.
"We knew we wouldn't have trouble finding a house, but (we wanted) one that had some character," Sager said. "When we found that one, I walked in the front door and saw the crooked staircase and that's what sold me. We knew for what we wanted to do, build tension and make it scary, we needed lots of stairs."
After the film was done, Matchbox was able to get the attention of Imagination Worldwide, a Los Angeles based company that agreed to distribute Devil Seed to 17 countries across the globe. And now that the Matchbox team has a polished product to be proud of, they're hoping the experience leads to bigger and better projects.
"We're very, very happy about how it turned out," Elmer said. "I think it's crucial to have one movie under your belt. We had no doubt in our minds that we're going to be able to produce this movie and get it out there and that it would be good. But with no track record, nobody else can believe that."
In fact, the Canadian producers already have their next project in mind. Sticking within the horror genre, Kingdom Come is the supernatural thriller Matchbox has wanted to produce since the company established in 2009. Selling Devil Seed around the world is helping them kick start a reputation for scaring audiences and the crew has already secured a bigger budget to make their dream project a reality when filming begins this fall.
"We could have tried Kingdom Come for $200,000 but would have done it no justice," Sager said. "Kingdom Come really hasn't been done before, you really haven't seen it. Out of the gate, it wasn't the right one to do, it wouldn't have saw its full potential."
Devil Seed is helping them make Kingdom Come a reality, but in the meantime, Matchbox is hoping the move that they'll use as their "calling card" is able to turn some heads and provide a few screams.
"We focused so much on being scared the way they used to do it," Sager said. "Less is more. It's not what you see that scares you, it's what you don't see. I want people to jump, that's the bottom line. We went for scary and uncomfortable and I hope whoever sees it, sees it that way."
Twitter: @LondonerChris